Page 7 - Abundance Accelerator (Allanah Hunt) : Flip It & Read It
P. 7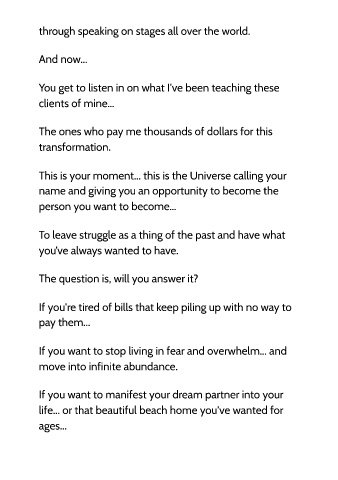 through speaking on stages all over the world.



           And now...


           You get to listen in on what I've been teaching these
           clients of mine…


           The ones who pay me thousands of dollars for this
           transformation.



           This is your moment... this is the Universe calling your
           name and g iving you an opportunity to become the
           person you want to become…



           To leave struggle as a thing of the past and have what
           you've always wanted to have.



           The question is, will you answer it?


           If you're tired of bills that keep piling up with no way to
           pay them...



           If you want to stop living in fear and overwhelm... and
           move into infinite abundance.



           If you want to manifest your dream partner into your
           life... or that beautiful beach home you've wanted for
           ages...