Page 4 - Abundance Accelerator (Allanah Hunt) : Flip It & Read It
P. 4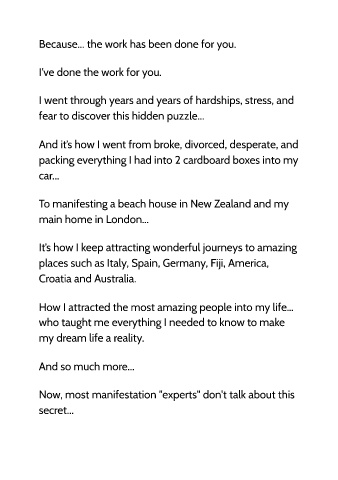 Because... the work has been done for you.



           I've done the work for you.


           I went through years and years of hardships, stress, and
           fear to discover this hidden puzzle...



           And it's how I went from broke, divorced, desperate, and
           packing everything I had into 2 cardboard boxes into my

           car...


           To manifesting a beach house in New Zealand and my
           main home in London…


           It's how I keep attracting wonderful journeys to amazing
           places such as Italy, Spain, Germany, Fiji, America,

           Croatia and Australia.


           How I attracted the most amazing people into my life…
           who taught me everything I needed to know to make

           my dream life a reality.


           And so much more...



           Now, most manifestation "experts" don't talk about this
           secret...